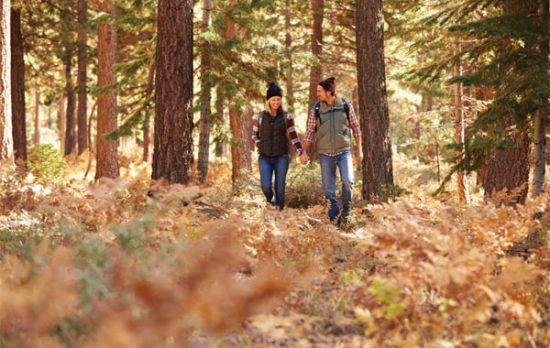 Before Pines of Kabetogama became a haven for discerning travelers, this sheltered stretch of shoreline, ringed by rugged granite hillsides, served as waterways for outdoor adventure. In many ways and homesteading opportunities, little has changed in the rustic landscape over the years. Nature here is still respected—not tamed. The estate's Northwoods architecture is designed to harmonize with the native terrain, and indigenous trees and flowers still grow wild. Rather than engineer paths or plantings, Pines of Kabetogama grounds staff allow nature to be the creative director.
Throughout the estate are a series of scenic private roads and hiking trails that wind through the woods, rising to heights of more than 300 feet and culminating in breathtaking cliffside views of Lake Kabetogama. These roads and trails follow the same path that many deer, bear and wolves created years ago while meandering through the woods on the estate.
Aside from a few benches placed at strategic locations, the local flora is left to its own ingenious devices. Walkers may admire an array of the region's plants and trees as they walk the paths, where mighty white pine, ash and majestic birch are plentiful. These give way to a beautiful meadow as the trail ascends to reveal panoramas of the Northwoods. You will also find Mother Nature's gifts as you explore many of these trails. During mid-summer, the rock-overs are full of wild blueberries. Along many of the trails, you will also find wild strawberries and raspberries.
The woods along the Loop are a birdwatcher's paradise. Multiple species have been identified, and observant hikers may spot hummingbirds, woodpeckers, chickadees, nuthatches, finches, robins and orioles. You may even enjoy the luxury of sighting a golden or bald eagle. The raptors love to hunt in the meadow. You will find falcons and hawks alike, teaching the young to hunt. Besides small birds, other wildlife that makes a home at the Pines of Kabetogama are bear, wolf, grouse, ducks, deer, raccoons, squirrels, rabbits, fox, porcupine and chipmunks. We also have several reptiles that amaze us with their presence. We have a variety of turtles, mostly snapping and painted, that make the journey cliffside to lay their eggs.
The trails are lovely at any hour of the day from sunrise to sunset. We also have three lakeside fire pits that are available by reservation. These are the perfect setting for gathering with your family, offering stunning views of Kabetogama Lake. You can observe our resident duck, loon and kingfisher families, as well as making note of what fish have been caught that day. Later in the evening, you can look skyward for a spectacular light show. The stars seem to dance just out of reach. On many occasions, the Aurora Borealis will also put on a spectacular performance. These times are often brief, yet breathtaking.
Please note our hiking trails and fire pit experiences are available exclusively to resort guests.