Minnesotans love the outdoors year-round but when the weather starts to warm up, you will hear more people ask, "What are you doing this weekend?" and in response, you will often hear, "We are heading up north to a cabin". Known as the Land of 10,000 Lakes, there's plenty of options for all-weather outdoor fun in Minnesota, but there is something special about exploring Northern Minnesota when the weather is pleasant and relaxing in a cabin by the lake. At The Pines of Kabetogama, we offer an exquisite collection of luxurious cabins and spacious RV campsites surrounded by the stunning landscape of Voyageurs National Park. If you are searching for a Minnesota cabin destination for your next family vacation, explore what we have to offer and learn why past guests describe The Pines of Kabetogama as a must-see Minnesota cabin resort.
Minnesota natives largely agree that visiting a cabin in the summer is part of the culture, and it's worth taking the time to experience it for yourself. My family vacations growing up included a trip to Disney World over spring break and road trips to visit family members. We didn't own a family cabin, and we didn't take trips "up north". In our 20s, Jason and I traveled quite a bit around the world (thanks to a job with amazing travel benefits) and didn't spend a lot of time touring northern Minnesota. Since we often traveled out of state, we didn't realize how much the neighborhood quieted down in the summertime until we had kids. During the school year, our neighborhood is full of kids running from house to house, bouncing on each other's trampolines, racing their bikes and scooters around the block, and playing every outdoor game you can imagine. But once school lets out, the neighborhood becomes a ghost town. At one point I thought we were the loudest family on the block, until I realized that we might be one of the only families in town.
I was intrigued about all these cabins up north and wanted to learn more, so I started to probe my fellow Minnesotans for more information, tell me more about this cabin. I learned that some families owned a cabin that had been in the family for generations. Others owned land and were building their dream cabin, literally, with their own hands. Others visited the same cabin resort year after year with their kids, just like their parents and grandparents did. A cabin up north could mean anything from a rustic lean-to on acres of land with no running water to a luxury log home with all the amenities, a rustic cabin rental to a fancy resort, and everything in between. A little bit of everything, something for everyone. We decided to give it a try ourselves and plan a family vacation that would give us a classic Minnesota cabin experience. We too wanted to explore Minnesota, "head up north to the cabin" and spend time as a family in the great outdoors swimming, fishing, and boating in one of Minnesota's many lakes.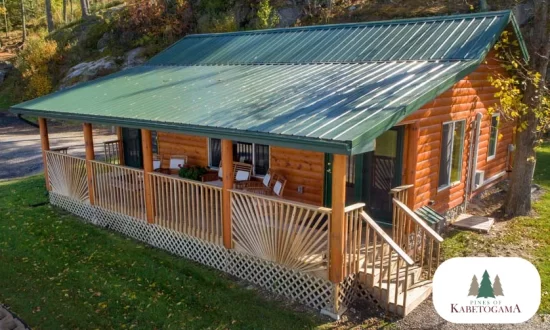 With all the Minnesota lakefront cabin and fishing resorts available, you might think it would be easy to find a rental cabin for a long-weekend trip that met our needs, but it was not. All vacations take time to research and plan and seeking out the perfect rental cabin was no different. At some locations, you need to be prepared to book at least a year in advance. Some popular Minnesota cabin resorts have returning families who are first in line to prebook their favorite cabin for the next year. Makes sense, but nearly impossible to reserve especially on "short notice" (less than a year out). Another challenge we faced was that many cabin resorts had a one-week stay requirement, meaning you must stay for a full seven nights, typically Saturday – Saturday. That didn't work well for us. We were still fairly young in our careers and without tenure, paid vacation time was scarce, remote work was extremely rare, and we had young (and expensive) kids. We didn't want to spend the annual vacation budget on one cabin rental, but rather maximize our time and budget to visit many destinations. Also, many resorts do not advertise availability online or offer online booking options, so I would have to call and hope for the best that our dates worked or spend a significant amount of time on the phone to find alternate dates that did work with our busy schedule. Nevertheless, I persisted and found a privately owned lakeside resort that offered private cabin rentals with a full kitchen, a full bathroom, no requirements for a week-long stay, and had lake access with either dock space or boat rentals. We had our first Minnesota cabin reservation!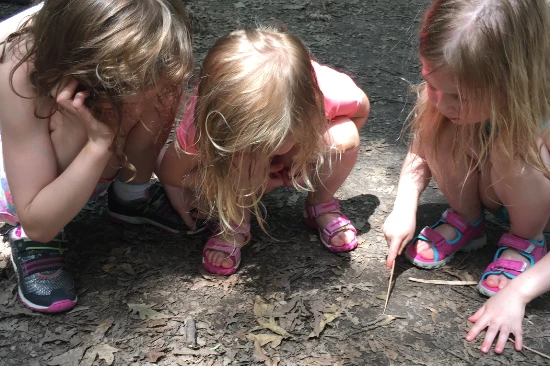 On our first cabin trip, we packed up the car, stuffed full of blankets, pillows, towels, clothes for all kinds of weather, food, fishing poles, life vests, personal care items, and the kids and headed up north to a lake resort to experience our first classic Minnesota vacation. The "deluxe" cabin itself was just ok, it was adequate for a weekend, nothing fancy. It had the necessary essentials, two bedrooms, one bathroom, a small kitchen, and a living room. I would describe the overall condition of the cabin as "tired", but it was neat and had a rustic charm to it. I didn't love that we had to pack our own towels and linens but learned that it is not uncommon to have to haul your own bedding. We did, however, have a wonderful time as a family enjoying the lake life for a long weekend. We fished off the dock, the kids even caught some little fish with their cute hot pink fishing poles, we went on nature hikes, and enjoyed boat rides around the like. To my surprise, the kids were very curious in nature, and were entertained by the simple things, like rocks, leaves, frogs, and worms. We saw eagles and deer and even had a thrilling encounter with a black, furry, slightly wet creature that scurried across the hiking path in front of us (to this day I am still not exactly sure what it was). Although we didn't have a desire to return to this particular lakeside resort, we did enjoy the experience and in the following years, booked several long weekend stays at other cabin resorts in Minnesota. We too, fell in love with the Minnesota cabin experience.

Fast forward many years, we started our journey to seek out a resort that we could call our own (we loved cabin life so much and it was our dream to own a resort business someday). Many resorts were very similar to the cabins we had visited (and several were in desperate need of some serious repair). But then we visited The Pines of Kabetogama. First notable difference was the expansive property featuring a 60-foot granite cliff. Five gorgeous rental cabins were nestled along the base of the cliff with spacious front and back yards to each cabin and large covered decks with a lake view. The shoreline had a meticulously manicured large front lawn with a small playground for the kids, a large community firepit with a view of the lake and night sky, and beautiful marina. Before we toured the cabin, we could see that this resort was unlike any other cabin resort we had visited over the years, it was stunningly beautiful and well-maintained. We had the opportunity to tour each of the cabins, and … wow. I was floored, I didn't know cabin resorts could be this luxurious, we hadn't experienced anything like it during our family vacations, and not for lack of trying or budget, I simply didn't come across anything similar in all our searches over the years. We were impressed.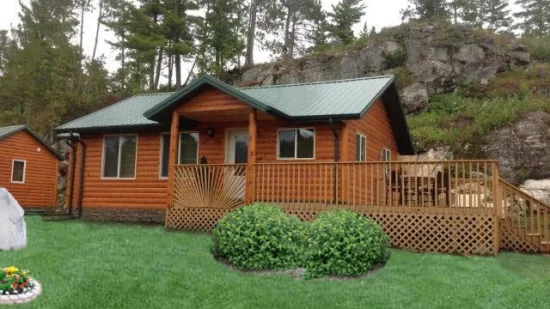 Many of our guests have shared similar comments about how they, too, were impressed with The Pines of Kabetogama. We invite our guests to share their experiences on various travel review websites, perhaps you have read some of them as you consider The Pines for your cabin vacation. We leave a guestbook in each cabin and encourage guests to write a note about their vacation to share with future guests. (I love to read the comments, and so do the staff, it's very rewarding to see how we have helped make a family vacation, family reunion, birthday, honeymoon, anniversary, or simple weekend getaway special). Guests agree that our cabins are different from other Minnesota cabin resorts, and we continue to make frequent updates to ensure that they remain best-in-class and in first-class condition. To highlight some of the top reasons we believe our resort is unique, as well as what's new in 2023, I am sharing never-seen-before feedback written by actual guests that signed our guestbooks.
"Loved, loved, loved this cabin, can't believe how clean it was when we arrived!" Party of two from Brooklyn Park, MN (Cabin 3)
Our cabins are beautifully furnished and clean, so clean in that you can walk in, unpack, and immediately relax. You don't have to give the surfaces a "once over" cleaning or wash the dishes. (Cleanliness has always been important to me, I am the one the family armed with disinfectant wipes yelling "Don't touch ANYTHING until I wipe it down!) When you rent a cabin, most likely you are planning to cook some or all of your meals. Each cabin has a full kitchen, with full size appliances, and all the dishes, utensils, and cookware and that you need to prepare a meal. We are committed to ensuring you have a great culinary experience while on vacation, and this year we will furnish the cabins with brand new dishes, drinkware, silverware, pots and pans, and knife sets. We strive to equip our kitchens with high-quality wares, similar to what you would stock in your own kitchen. When you check in, our goal is to impress you with our keen attention to detail, so that you can get out on the lake to catch some walleye, cook up an excellent fish fry, and then clean up after dinner, not before.
"Your amenities far exceeded our expectations" – Family of five from Adams, WI (Cabin 2)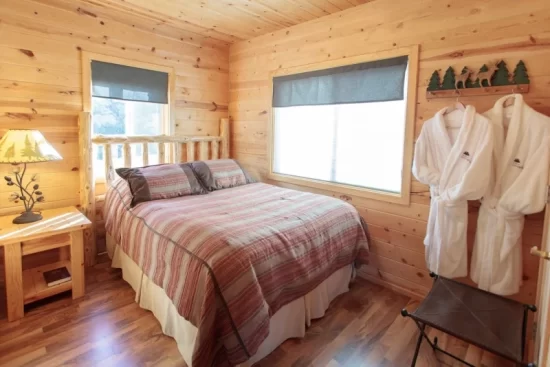 Your cabin rental includes luxury linens, towels and bathrobes, and spa-quality bath amenities. You already have a lot to pack, and whether you are flying in or driving, the last thing you want to bring on vacation is your own linens and towels only to carry them back home and do the extra laundry. I did that for years, and no thank you! When I go on vacation, I want to show up, unpack my clothes, and get outdoors, not make beds. When you stay at The Pines of Kabetogama, the bathrooms include plush, extra-large bath towels and BeeKind® bath amenities (inspired by nature, the high-performance, ecofriendly products will make you feel good). The beds are clean, comfortable, and freshly made up with luxury linens. In 2023, we are featuring brand new, hand-selected (and personally tested) fine linens and bedding to ensure you have a good night's sleep. Also new this year, sumptuous bathrobes for the principal bedroom of each cabin, crafted with the softest velvet terry fabric to wrap yourself in comfort.

"We had a great two days, we came so our daughter could check Voyageurs off her national park list" – Family of six from Woodbury, MN (Cabin 2)
We believe in flexibility. We know how hard it is to have a wanderlust in your heart but limited time to pursue your passion to travel. That is why we only require a 3-night minimum stay in the peak summer months, with no restrictions on which three nights you choose to stay. If you have a long list of must-visit places and limited time and budget like we did, you don't have to commit to an entire week-long vacation. You can certainly stay for a week (or longer) if you desire, but it is not required. We want you to see the world and have many wonderful experiences with your family! Hopefully, you enjoy your stay with us and long to come back and visit again (and again).
"The attention to detail is so apparent. Love it" – Party of two from Boynton Beach, FL (Cabin 4)
We aim to impress you before you arrive at The Pines of Kabetogama. We regularly update our website to provide you with accurate information that will answer questions you may have as you evaluate your vacation options. We make it as easy as possible for you to book your vacation by offering you the ability to search for availability online and book your reservation. We also answer our phones year-round and encourage you to call us anytime you have a question, or to book your reservation if you prefer. I enjoy talking to guests on the phone and strive to make a connection so that you are equally as excited to arrive as I am to meet you and your family.
"We had a wonderful time at your beautiful resort! The friendly staff made our visit even better" – Group of teacher friends from Illinois (Paul Bunyan cabin)
We hire friendly and knowledgeable staff members who are dedicated to providing you with an exceptional guest experience from the moment you enter the grounds. Our staff members will greet every guest with a wave and a smile. They will escort you to the office to check in and then to your cabin, where they will point out important features of your unique cabin. We can answer your questions and provide recommendations on everything from where to eat dinner to where the fish are biting that week. We encourage you to take a few moments to get to know us, and ask us anything!
"We had a wonderful time! Beautiful cabin, excellent facilities, loved the Northwoods décor" – Three families from St. Louis, MO (Paul Bunyan Cabin)
Our cabins are clean and elegant, and well-appointed with luxurious amenities and all the kitchen essentials. We also have complementary high-speed WiFi in your cabin and throughout the property and DirecTV so you can stay connected, or not, your choice. You can enjoy a view of the lake from your covered deck, grill your freshly caught fish for dinner, and tell stories and laugh around the campfire in the evening.
"Everything we needed was right here to enjoy, we thoroughly enjoyed our stay" – Family of six from Rochester MN (Paul Bunyan Cabin)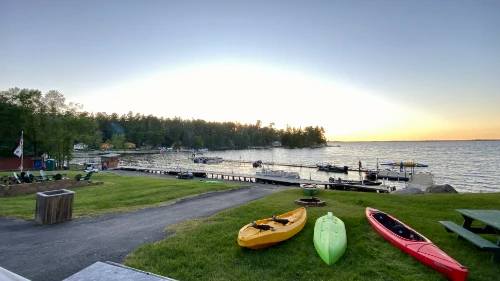 While you are here, you can take advantage of our boat rentals, or explore the lake in one of our canoe, kayak, or paddleboard rentals. We also have a small swimming beach and a very popular alligator water trampoline (for kids and adults). Play a lawn game or read a book on our sprawling front lawn. Gather around the community firepit to relax and enjoy the view and meet new friends. (If you are lucky, this is also the perfect place to soak in a spectacular display of the Northern Lights). Forgot something or looking for that special keepsake? Check out our ever-expanding gift shop where you will find the essentials such as live bait, firewood, and ice, an assortment of snacks and beverages, and gifts to remember your vacation.
"We have been very impressed with the beauty of the cabin and the friendliness of the staff. Thank you for creating this beautiful escape. We will be back again" – Party of two from Cedar Rapids IA (Cabin 3)
While we are sad to see our guests leave, nothing thrills us more than knowing you have found a special place to create memories with your loved ones and want to return! Open May – October, we are taking reservations either online or over the phone. Surrounded by the stunning natural landscapes of Voyageurs National Park, combined with our keen attention to detail, we invite you to visit and experience for yourself why The Pines of Kabetogama is a must-see Minnesota cabin resort.