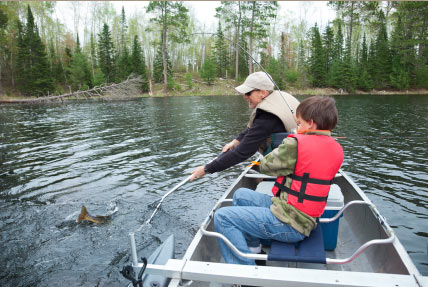 Voyageurs National Park is known for its abundant fishing opportunities: host to Lakes Kabetogama and continuous Namakan; Sullivan's Bay; Ash River; Rainy; Sandpoint; and the Canadian waterways. Fishing the quiet coves, shorelines and vast waterways is captivating. In just one outing, you will understand why families return year after year for walleye, northern pike, small mouth bass, crappie and pan fish.
Our new marina offers exemplary service beginning with full time staff, an assigned dock space with electric and water, fish cleaning and packing, live bait, ice, gas and detailed maps of the lakes. You can bring your own boat or choose from our wide ranging inventory of fishing-equipped boats and motors.
We do have fishing rods with spinner or casting reels available for daily rent.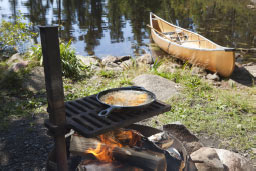 If you're checking off a few more lakes from your wish list or are ready to pioneer the chain of lakes with assistance, our resort concierge will assist you with guide and outfitter scheduling, details and pricing.
Please note: a fishing license is required to fish in the state of Minnesota.
Licenses can be purchased online prior to your arrival or in our office.
For more information or to make a reservation,
please call 218-875-2000 or email vacation@thepineskab.com.
Fishing Gallery
Lake Kabetogama Map