If you are interested in boat rental or cart rental, please call 218-875-2000.
2021 18′ Alaskan
90hp 4-Stroke, Minnkota Terrova 80/US2 with i-Pilot, Hummingbird Helix 7, side counsel, four chairs. $295/day plus gas and sales tax.

2021 Grand Island 20′ Pontoon
Rigged for fishing, 60-hp Yamaha with GPS Hummingbird fish finder and live wells. $295/day plus gas and taxes.

2014 20' Pontoon
50hp Yamaha with GPS depthfinder and live wells. Rigged for fishing this pontoon can accommodate 6 guests. $250/day plus gas and sales tax.

---
16' Lund
25hp 2-Stroke with depthfinder. Holds 3 people.
$100/day plus gas and tax

16' Lund
40hp Yamaha 4-StrokeTiller, electric start with depthfinder, trolling motor and bait well. 3-seater (with backs). $165/day plus gas and sales tax.

16-1/2' Lund
90hp 4-Stroke, 24 volt electric troller, GPS depth recorder, side console, 4 chairs (with backs).
$210/day plus gas and taxes.

---
Kayak & Paddleboard
Available to explore the park's natural shoreline.

Electric Cart and Bicycle Rental
$25/day plus sales tax or $150/week

Bycicle Rentals
$25/day or $150/week

---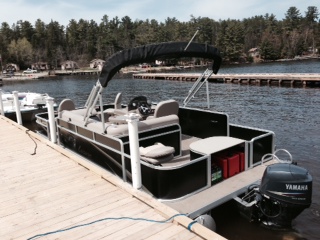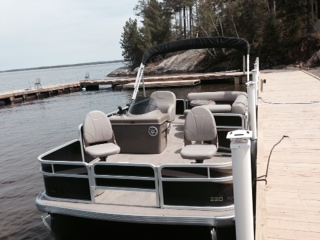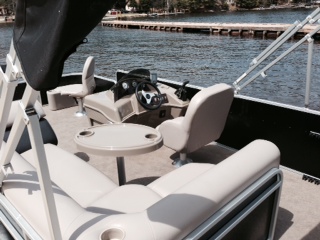 Rental location: The main office at the Marina area.
Reservations are recommended. You are not charged until you leave the dock.
Guests must be 21 or over to rent a boat and present a valid driver's license,
state-issued ID, or Military ID.
Drivers must have prior boat driving experience and understand basic operations
of the watercraft rented.
Drivers must have knowledge of waterway navigational markers and proper
navigation rules.
Drivers must be aware and assume risk of the multiple rock hazards on the chain
of lakes.
Drivers agree to abide by all Minnesota Boating Laws.
A boat rental contract will be completed prior to departure from the dock.
The person who signs the contract is defined as the primary renter and is responsible
for the rental boat, regardless of whom is driving.
Onboard smoking and alcohol are not permitted.
Minnesota State Law requires one life jacket per person onboard every watercraft. Complimentary life jackets are provided. We have limited child and oversized vests. We recommend you bring a Coast Guard approved vest to wear during your stay.
Maximum capacity is based on Coast Guard regulation and type of boat rented.
Boats are required to be returned to the dock prior to sundown for fueling and inspection.
Day of Rental
At check-in, we will review and sign the rental contract. We will collect for the boat rental in full. We will require an ID card for each driver listed on the contract and one credit card to hold on file for possible damages. If there are no damages incurred during your rental period, the pre-authorization hold will be released, and you will not be charged.
All listed drivers must be present for boat equipment instructions on the dock. All drivers should carefully inspect the rental boat, prop, and motor prior to leaving the dock area. The primary renter will assume all responsibility for any damage incurred during use.
Rental boats are inspected and prepared with a full tank of gas at the beginning of rental. Upon return, we will help dock the boat and top off the fuel. Fuel costs, bait, and incidentals will be collected at the end of rental after final fuel fill and inspections.
On the Water
Whether you are looking for a reel good time or just a scenic ride through Voyageurs National Park, you will be out on the water early and often at Pines of Kabetogama Resort. For anglers, the options are delightful as a Friday night fish fry—walleye, small mouth bass, crappie, northern pike and more—casting or trolling. Whether you catch and release or cook up a perfect shore lunch, you will be thrilled to experience an array of fishing at its finest.
Of course, the smooth and scenic waterways provide plenty of entertainment for those who are not inclined to bait the hook. You have never truly experienced a Northwoods' water adventure until you have seen one from a kayak or paddle board, and the miles of water trails make for a paddler's paradise.